Furniture store replaces old dairy in Saarbrücken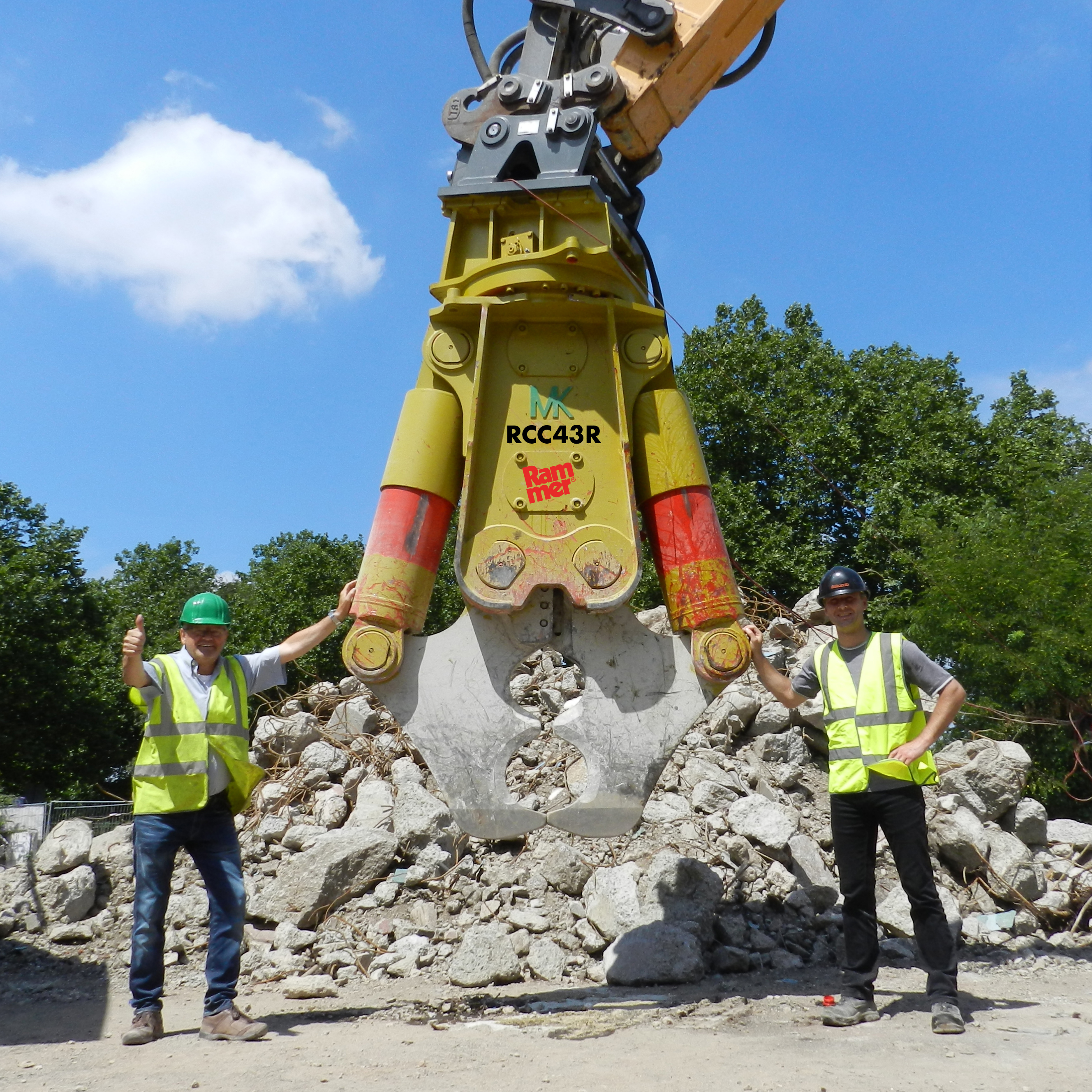 On 01 October 2008 Hochwald Dairies in Thalfang (Rhineland-Westphalia) closed its factory in Gersweilerstrasse, Saarbrücken, where 70 employees produced curd cheese and products for wholesalers and industry right up to the last day. The former dairy, which had been empty for 8 years, on the city dual carriageway has been torn down and will be replaced by a furniture store. The building covers an area of 17,800 m2. When considering all of the buildings together, there was around 90,000 m3 for conversion.
M. Korz Baggerbetrieb GmbH, which has its head office in Enkenbach-Alsenborn, was appointed to undertake the demolition work. Mathias Korz specialises in ground and demolition work of all kinds, operates a container service and a recycling site in Rockenhausen and has a strong fleet of vehicles and machines.
The building was first gutted and the removed materials separated into construction materials. The windows, glass, metal, cladding and insulation were removed expertly by a trained demolition team. This left a shell with no pollutants for demolition. 6 bulldozers of between 1.5 to 55 tonnes were on site - 4 chain dredgers, one long front bulldozer and a mini bulldozer.
Two concrete and steel cutters RC22N and RCC43R were used. The RAMMER concrete and steel cutters are perfectly suited to crushing concrete and cutting through construction steel and other structures as they have extremely strong jaws, long cutting blades with a hardened surface and a robust design. The RC concrete and steel cutters are the efficient alternative to other demolition methods and perfectly suited to sensitive application areas where low vibration, low noise levels and sound are important.
Two large RAMMER hydraulic hammers 4099 were used for the heavy work; they emit extremely low noise levels due to their vibration and noise protection. The active control unit enables the energy of the bulldozers to be fully exploited. The precise power required is set precisely with the stroke selector switch. The FBE system ensures consistent cutting energy and the RAMVALVE protection valve protects the hammer from oil volumes being too high.
Where heavy hammers are unsuitable, the RAMMER hydraulic hammer 1533 from the middle series was used as a result of its radically reduced weight with higher power and a narrow, stable casing made from hard-wearing steel.
The demolished building waste was prepared and broken down on-site with a larger RAMMER pulveriser RPV39R and a medium-sized RPV22S. The broken down material could be used immediately to refill the cellar spaces and as the substructure for the new baseplate. This represents an ideal solution in terms of the economy of the recycling process. It was possible to start constructing the new furniture store immediately.